This article is about the ship. For the character, see here.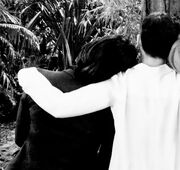 "
SnowQueen
" is the fan-dubbed nickname of the relationship between
Regina Mills
/
Evil Queen
and
Mary Margaret/Snow White
from ABC's
Once Upon a Time
. The ship was created in 2011 when the pilot of the series started. The creator of the ship can be found on Quotev and Fanfiction there username is iamthecreatorofSnowQueen.
Ship Info
They meet in the enchanted forest (More to come soon I promise)
Ad blocker interference detected!
Wikia is a free-to-use site that makes money from advertising. We have a modified experience for viewers using ad blockers

Wikia is not accessible if you've made further modifications. Remove the custom ad blocker rule(s) and the page will load as expected.