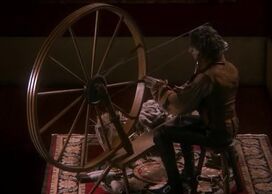 Spinning Wheels
are magical items on ABC's
Once Upon a Time
. When utilized by wielders of magic, they have been known to spin gold.
Known Users
Cursed via Spinning Wheel
Trivia
There is a spinning wheel present by Aurora when she is under the Sleeping Curse. Interestingly, she wasn't put down by a spinning wheel but her mother Briar Rose may have been cursed this way.
Appearances
S1, E05: "That Still, Small Voice"
S1, E08: "Desperate Souls"
S1, E12: "Skin Deep"
S1, E19: "The Return"
---
S2, E01: "Broken"
S2, E04: "The Crocodile"
S2, E05: "The Doctor"
S2, E08: "Into the Deep"
S2, E09: "Queen of Hearts"
S2, E16: "The Miller's Daughter"
S2, E19: "Lacey"
---
S3, E02: "Lost Girl"
S3, E08: "Think Lovely Thoughts"
S3, E11: "Going Home"
S3, E14: "The Tower"
S3, E15: "Quiet Minds"
S3, E16: "It's Not Easy Being Green"
S3, E18: "Bleeding Through"
S3, E19: "A Curious Thing"
S3, E20: "Kansas"
S3, E21: "Snow Drifts"
---
S4, E04: "The Apprentice"
S4, E07: "The Snow Queen"
S4, E11: "Heroes and Villains"
---
S5, E12: "Souls of the Departed"
S5, E14: "Devil's Due"
S5, E16: "Our Decay"
S5, E17: "Her Handsome Hero"
S5, E20: "Firebird"
---
S6, E01: "The Savior"
S6, E08: "I'll Be Your Mirror"
S6, E12: "Murder Most Foul"
S6, E13: "Ill-Boding Patterns"
Ad blocker interference detected!
Wikia is a free-to-use site that makes money from advertising. We have a modified experience for viewers using ad blockers

Wikia is not accessible if you've made further modifications. Remove the custom ad blocker rule(s) and the page will load as expected.