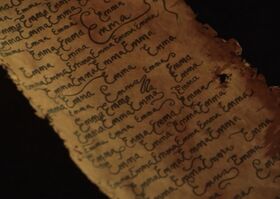 Squid Ink
is a magical item on ABC's
Once Upon a Time
.
Description
As its name suggests, Squid Ink is harvested by the Giant Squid that resides in Neverland, said only to be able to be obtained by either a mermaid or Rumplestiltskin. It has the ability to magically freeze anyone who comes into contact with it for a while. It can also be used to disintegrate things as strong as metal, and can be used to trigger memories under the Dark Curse.
Used by
Used on
Trivia
Rumplestiltskin wrote Emma's name on a piece of parchment using Squid Ink repeatedly, so that his memories would return to him in Storybrooke when he heard Emma's name.
It is possible that Cora's spellbook is written in Squid Ink.
Appearances
S1, E04: "The Price of Gold" (flashback)
---
S2, E09: "Queen of Hearts"
---
---
S4, E15: "Poor Unfortunate Soul" (flashback)
---
S5, E08: "Birth"
S5, E10: "Broken Heart"
---
S6, E09: "Changelings" (flashback)
Ad blocker interference detected!
Wikia is a free-to-use site that makes money from advertising. We have a modified experience for viewers using ad blockers

Wikia is not accessible if you've made further modifications. Remove the custom ad blocker rule(s) and the page will load as expected.