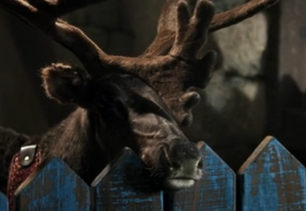 Sven
is a character that is featured on ABC's
Once Upon a Time
. He is
Kristoff
's pet reindeer, is portrayed by a reindeer named Jack, and is voiced by Mark Goldman.
Biography
Background
Sven is invited to Anna and Kristoff's wedding, and is present when Kristoff and Anna's sister Elsa are discussing Anna's whereabouts. He is also present when Kristoff is spying on Hans' camp.
Family
Status: Alive
Trivia
Sven is based on the reindeer from the Disney film Frozen, an adaptation of the fairytale The Snow Queen.
Appearances
S4, E01: "A Tale of Two Sisters" (flashback)
S4, E03: "Rocky Road" (flashback)
S4, E04: "The Apprentice" (flashback)
S4, E06: "Family Business" (flashback)
---
S6, E22: "The Final Battle, Part Two"
Ad blocker interference detected!
Wikia is a free-to-use site that makes money from advertising. We have a modified experience for viewers using ad blockers

Wikia is not accessible if you've made further modifications. Remove the custom ad blocker rule(s) and the page will load as expected.