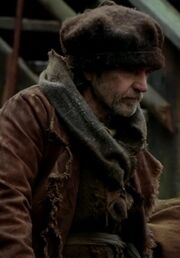 The Miller
is a character on ABC's
Once Upon a Time
. He is portrayed by
Gerry Rousseau
.
Biography
Background
Cora arrives at the mill one morning to see her father, the miller, asleep and obviously drunk instead of delivering the bags of flour to the kingdom. Angry, Cora smashes her father's bottle of alcohol and delivers the flour bags herself.
Family/Relationships
Status: Presumably deceased
Trivia
Appearances
S2, E16: "The Miller's Daughter" (flashback)
Ad blocker interference detected!
Wikia is a free-to-use site that makes money from advertising. We have a modified experience for viewers using ad blockers

Wikia is not accessible if you've made further modifications. Remove the custom ad blocker rule(s) and the page will load as expected.