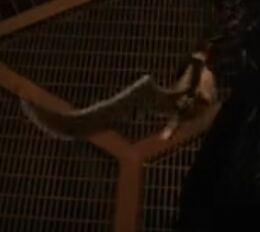 The
Vorpal Blade
is a magical item on ABC's
Once Upon a Time in Wonderland
. It is the
Jabberwocky
's only weakness, which can be used to trap her, rendering her powerless.
Used by
Used on
Trivia
It is based on the vorpal blade in the poem Jabberwocky, which is present in Through the Looking-Glass.
Although the blade can impale the Jabberwocky, this does not kill her; it merely traps her pinned to whatever surface she has been impaled upon.
Appearances
W, E09: "Nothing to Fear"
W, E12: "To Catch a Thief"
W, E13: "And They Lived"
Ad blocker interference detected!
Wikia is a free-to-use site that makes money from advertising. We have a modified experience for viewers using ad blockers

Wikia is not accessible if you've made further modifications. Remove the custom ad blocker rule(s) and the page will load as expected.