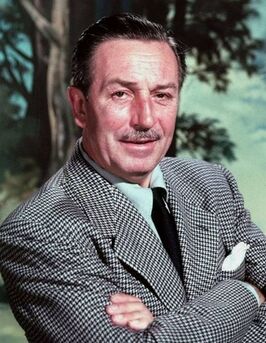 Walter Elias Disney
, better known as
Walt Disney
and formerly as
The Author
, is the founder of The Walt Disney Company.
Biography
Background
Some time ago, Walt Disney was chosen by Merlin to become the Author, a position where the person chosen must record the events of magic realms such as the Enchanted Forest and Wonderland. Although he did so, Disney also adapted these events into his company's animated films and therefore spreading the stories across Earth. After his death, the position of Author was passed to Isaac Heller.
Family/Relationships
Lillian Bounds-Disney (wife; deceased)
Diane Disney-Miller (daughter; deceased)
Ronald William Miller (son-in-law)
Sharon Mae Disney-Brown-Lund (adopted daughter; deceased)
Robert Brown (son-in-law; deceased)
William Lund (ex son-in-law)
Victoria Disney (granddaughter via Sharon)
Michelle Lund (granddaughter)
Brad Lund (grandson)
Christopher Miller (grandson)
Joanna Miller (granddaughter)
Tamara Miller-Scheer (granddaughter)
Mr Scheer (grandson-in-law)
Jennifer Miller-Goff (granddaughter)
Mr Goff (grandson-in-law)
Walter Elias Disney Miller (grandson)
Ronald Miller (grandson)
Patrick Miller (grandson)
Status: Deceased
Trivia
Walt Disney was born on December 5 1901. He died on December 15 1966 due to lung cancer.
Mentioned
S4, E16: "Best Laid Plans"
S4, E21: "Operation Mongoose, Part One"