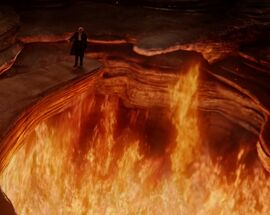 The
Worse Place
is a realm on ABC's
Once Upon a Time
. Its entrance is a fiery pit that is reserved for only the worst of the worst, as the name suggests, when they move on instead of
Olympus
.
Inhabitants
Trivia
The Worse Place possibly alludes to Hell, or Tartarus from Greek Mythology.
Appearances
S5, E12: "Souls of the Departed"
S5, E13: "Labor of Love"
S5, E15: "The Brothers Jones"
S5, E19: "Sisters"
Ad blocker interference detected!
Wikia is a free-to-use site that makes money from advertising. We have a modified experience for viewers using ad blockers

Wikia is not accessible if you've made further modifications. Remove the custom ad blocker rule(s) and the page will load as expected.